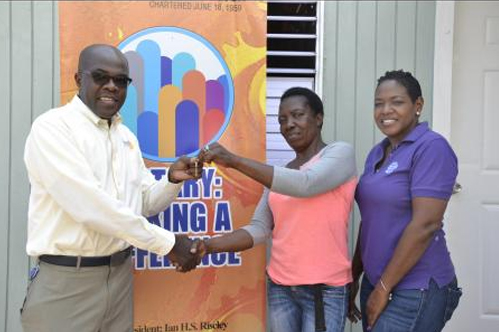 The well-known expression 'there's no place like home' is a profound statement for Vanetta Bell, a resident of Rose Town in Kingston. Bell has lived in less than favourable conditions in the inner-city community with her family of four for a number of years.
Exposed to the elements, with barely a roof over their heads and a tarpaulin providing shelter to one side of the dilapidated building, Bell felt she was destined to live the rest of her life in these conditions.
However, there was light at the end of the tunnel as the Rotary Club of Kingston, in partnership with Food For The Poor Jamaica, came to the rescue and recently donated a newly constructed house to the family.
Bell was beyond words as she openly expressed appreciation on behalf of her family for the much-needed gift. "I feel great because I didn't have a house of my own," Bell said.
According to Michael Buckle, president of the Rotary Club of Kingston, the organisation is passionate about 'Rotary: Making a Difference!' and has partnered with Food For The Poor Jamaica to rekindle the hope of the less fortunate by constructing four homes, one per quarter, as part of their major project for 2017-2018.
"We have seen the circumstances, and we are happy that these houses are permanent reminders of our endeavours. We have been able to transform lives through this initiative and make a difference in the community. This is a true testimony our motto of 'Service above Self'," Buckle said.
Members of the Rotary Club of Kingston also donated items, including beds, curtains and toiletries, to make Bell's stay at the house more comfortable.
Jason Truscott, president of the Creston Valley Rotary Club in Canada, who was a guest of the Rotary Club of Kingston, said it was heart-warming to see the impact of the project on the community. "These kinds of projects impact the root of these communities. It is more than just providing a house, but providing a place where these individuals can call a home," Truscott said.