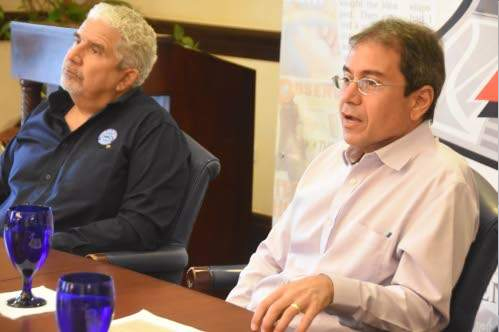 A pproximately 5,000 people are on the waiting list for Food For the Poor (FFP) houses, the charity's Chairman Andrew Mahfood has revealed, indicating the scale of need for shelter among the country's poorest.
But Mahfood suggested that the situation could be even worse, based on fresh information the charity received.
"Recently, we got word that the Government believes that that number is close to 20,000," Mahfood told reporters and editors at this week's Jamaica Observer Monday Exchange.
Currently FFP builds as many as 700 houses annually, but officials at the charity admit that sometimes they feel overwhelmed as there is an unending stream of requests for assistance coming into their offices.
"The phones ring non-stop," said FFP's Housing Investigation Unit Manager Rosannie Hewitt.
The charity's Executive Director David Mair corroborated that, saying, "Phone calls average about close to 3,500/4,000 a week."
Hewitt said that the number of housing applications that come in via mail stands at over 100 a day.
The majority of the demand for housing, she said, comes from St Catherine, Kingston and St Andrew, western St James, St Elizabeth, and St Ann.
"The beneficiaries are a mixture. You do have fire victims, flood victims, persons who are in very destitute situations; persons who literally do not have any housing, who have been in certain situations where they are either protected by the State because of their situation, so it is really a mixture," Hewitt said.
According to Hewitt, the number of fire victims seeking assistance in the last year has increased by approximately 15 per cent, with most of them in St Catherine and Kingston and St Andrew.
"Based on Food For the Poor's criteria and mandate, we really seek to, as best as possible, assist persons who are the poorest of the poor; persons whose houses are literally falling apart... these are persons who are actually given priority," she explained.
Hewitt reiterated that land ownership is critical to people benefiting from an FFP house.
"We cannot build on lands that we don't have the requisite documents or permission to build on," she said.
"In some cases you might find that we have persons who are fire victims, but when you really do your checks or verification you find that you are unable to build because they were informal settlers on the property," Hewitt further explained.
To ensure that all the applications are legitimate, Mahfood said they are investigated. The team also goes to the proposed building site to check if they can build on the land.
"We look at the state of the beneficiaries. We need to see them so that we identify who we are building for," Mahfood added.
On May 12, FFP Jamaica will, for the fourth consecutive year, stage a 5K from which it hopes to raise enough funds to build 100 houses, up from the 60 it built from last year's event.
Each donation received will be matched by FFP Florida.
Mahfood said that this year the two-bedroom houses will be handed over to beneficiaries furnished with two beds, a gas stove, and solar lighting.