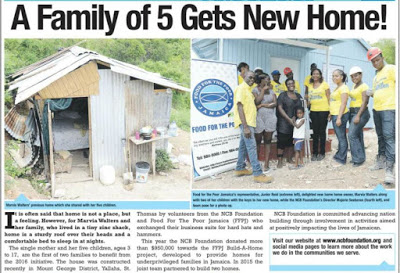 It is often said that home is not a place, but a feeling. However, for Marvia Walters and her family, who lived in a tiny zinc shack, home is a sturdy roof over their heads and a comfortable bed to sleep in at nights.
The single mother and her five children, ages 3 to 17, are the first of two families to benefit from the 2016 initiative. The house was constructed recently in Mount George District, Yallahs, St Thomas by volunteers from the NCB Foundation and Food For The Poor Jamaica (FFPJ) who exchanged their business suits for hard hats and hammers.
This year, the NCB Foundation donated more than $950,000 towards the FFPJ Build-A-Home project, developed to provide homes for underprivileged families in Jamaica. In 2015, the joint team partnered to build two homes.
NCB Foundation is committed advancing building through involvement in activities aimed at positively impacting the lives of Jamaicans.