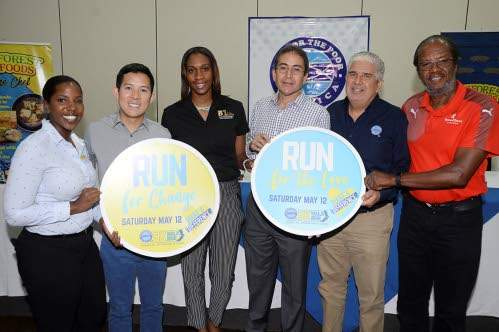 With over 28 homes already committed, Food For The Poor (FFP) Jamaica is well on its way to changing more lives and restoring more families through the fourth staging of its 5K Run/Walk event.
Having improved the health, economic, social and spiritual conditions of the poor in the island since its establishment in 1983, Food For The Poor will once again be using the May 12 event to continue its fund-raising efforts.
As the largest charity organisation in Jamaica, Food For the Poor is also aiming to reaffirm its support for programmes in housing, food, health, water, sanitation, education, agriculture, outreach and micro-enterprise by building 100 homes for the less fortunate. They are also seeking to increase awareness for their various areas of ministry.
Andrew Mahfood, chairman of FFP Jamaica, expressed his excitement about the prospects for this year, with various organisations and individuals already donating and committing to building one or more two-bedroom units thus far.
"We are very excited; this year is our fourth year and we are gaining more and more publicity and more people coming on board, especially corporate Jamaica, who are using the moment to build a home to do team building.
"They bring out team members, they build a home and share in the spirit of giving, and I think it helps the teams when they go back to their different organisations to continue doing excellent for the employers as well. So I think it is a win-win for corporate Jamaica as well as Food For The Poor and the recipients," Mahfood told the Jamaica Observer during yesterday's launch of the event at Spanish Court Hotel.
Approximately $99.5 million was raised through the first two staging — $46.5 million in 2015 and $53 million in 2016 — and over 100 homes built as a result.
Mahfood revealed that they are aiming to hit the $40-million mark again this year.
This as the donation for the 100 units would amount to US$360,000 (JA$45,324,270), as one unit starts at US$3,600.
"We are also having a new thing we are launching this year, which is the sustainability part of the run where any company or family in Jamaica [who] wants to come on and donate a sustainability project, whether it is chicken rearing, animal husbandry or agriculture, they can come on board because we have those programmes as well," Mahfood explained.
National Bakery Foundation, with a donation of $3.6 million and a commitment to build 10 homes this year — up from eight last year — is among those already donating to the cause.
Craig Hendrickson, director of the foundation, made the announcement during the launch.
"We at National are always willing to give a helping hand to the Food For The Poor family, and we are happy to be on board for a second year and we are recommitting our donation to 2019.
"We hope our contribution will help Food For The Poor reach their target of 100 homes and bring hope to the recipients which will in turn motivate them. We also hope that these efforts will motivate others to donate even small acts of kindness," Hendrickson noted.
Meanwhile, Alfred Frano Francis of Running Events Jamaica, who will be in charge of the event, also committed to building one home, following up on last year's gesture when his organisation built a home for Jazelle Francis (no relation).
Black Ink Marketing and Events Solutions Limited and Tourism Product Development Company both committed to one home each, while Proven Investments committed to two homes on spot.
Whilst in the atmosphere of giving, David Shoucair, director of distributions at Food For The Poor, also made an on-the-spot handover of a new wheelchair and crutches to long-time run participant Maureen Saunders.
Saunders was also given free entry to the May 12 event scheduled to get under way at 6:00 am at Emancipation Park. Registration can be done online at runningeventsjamaica.com.